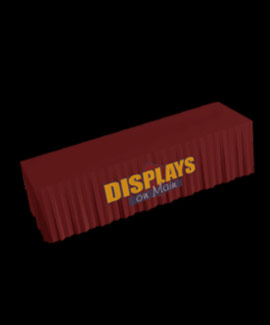 table throws / runners
Give your display a more professional look with
a fully decorated table throw.
Our premium table throws are easy to care for,
stain and wrinkle resistant, washable, flame
retardant and easy to store and ship. Standard
table throws are made to fit standard six and
eight foot tables and drape to fit the standard
30" high table.
Various graphic options available for the throw
including; fully-covered, front graphic only, sides, top etc.
30", 60" and 90" graphic table runers are also
available.